Live Football Roulette Relaunches at Playtech - Now permanent with added Goal Side Bet
Live Football Roulette relaunches at Playtech with a new permanent fixture. New Goal Side Bet gives you the chance to win 100x your total bet. Find out what the RoulettePros think right here.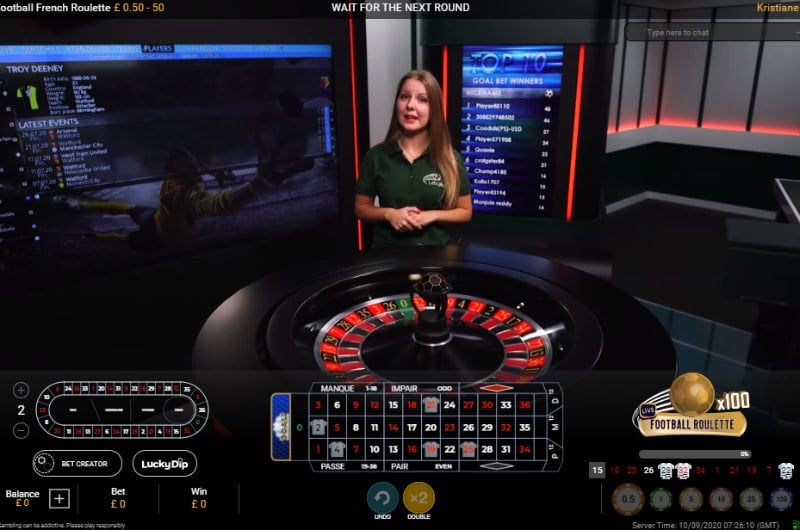 Playtech smashes it with revamped Live Football Roulette
The transfer window might be shuttering in over a month - but that hasn't stopped Playtech from adding a new star to its roster. The software provider has relaunched its popular Live Football Roulette table in a brand new dedicated Let's Play studio.
Previously, the table was only available during special sporting events. Now Playtech's sport themed roulette game is a permanent fixture, covering the latest matches in domestic and international football. Players will also now find a new Goal Side Bet feature - giving you the chance to win 100x your total stake bet.

Speaking about the relaunch, Edo Haitin, CEO of Playtech Live said: "Live Football Roulette has grown from being a promotional table to one of our most popular games throughout the year, so we know players will be very excited by this newly enhanced version."
Football Roulette may have taken some time to come off the bench - but the RoulettePros are glad to see it back in action. Below you will find our full thoughts on all the new features - and a cheeky look at that Goal Side Bet.
Live Football Roulette Bonus Features
Playtech
has made more than a hat trick of improvements to one of their most popular games. Here are all the main features:
Goal Bet side bet now gives you the chance to win between 3x and up to 100x
New studio with large display showing latest fixtures and matches - dealer can use the touch screen to browse through results/display analysis
Chatty dealer commentating on latest football developments including transfers and match results
Single zero roulette wheel with max betting limits of £50
Autoplay and Lucky Dip features for more convenient betting
Statistics, plus hot and cold numbers
French versions of the table available with La Partage side bet active
Goal Side Bet Explained
Playtech has added a new RNG side bet mechanic to its Football Roulette game - which gives you an average 1 in 7 chance to win on each spin.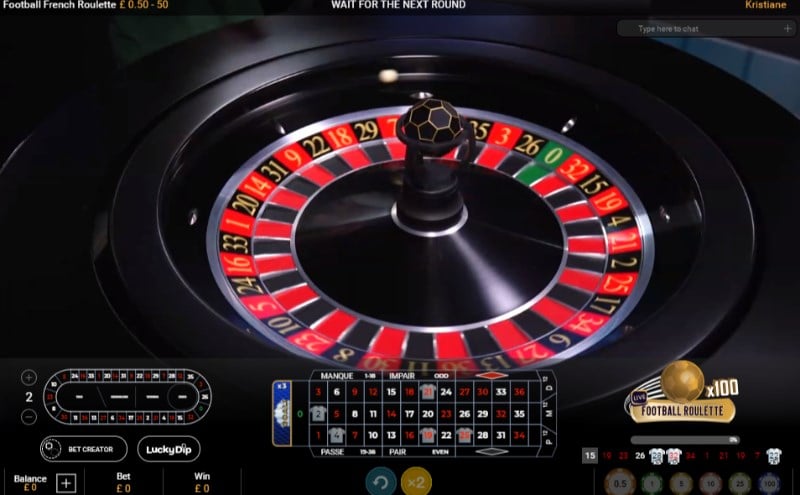 Place a bet on the all-new Goal side bet positions and five random bet positions will be highlighted with a football shirt.
If the ball lands on one of these numbers - then your bet will receive a multiplier payout.
The average return to player you will see from this side bet is 95.28%. Now, this is a fairly chunky drop from the average single zero roulette RTP of 97.3%. But it's worth noting that this is still among the best returns for a roulette side bet out there.
Live Football Roulette Review: Back of the net?
For football-loving roulette fans, this game is a no-brainer. Single zero roulette with constant footie discussion gives you the best roulette action - and a place to enjoy your favourite sport.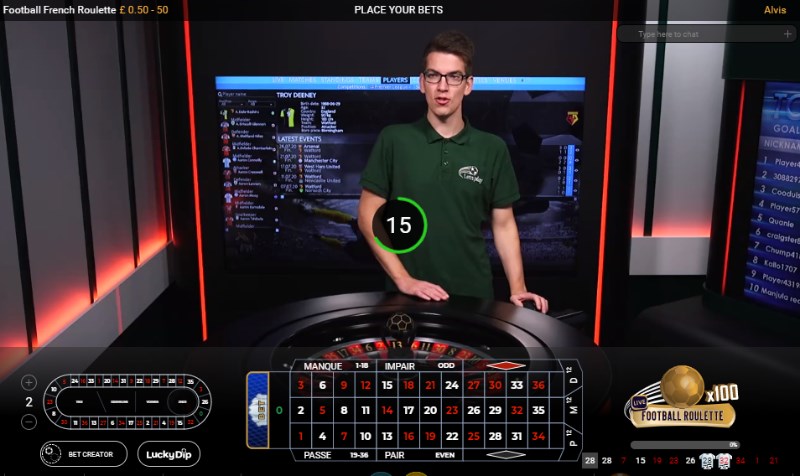 What we like most about this room is just how chatty the dealer is - and their depth of football knowledge. Expect top banter in this live roulette room as you discuss everything about the beautiful game.
It's also worth noting that there is a French Roulette version of this table with the La Partage rule active. Meaning outside players can benefit from a juicy 98.65% return to player.
On the side bet, our best Football Roulette Strategy is to play it passively. Don't focus on it constantly, as you will end up bleeding more of your balance than you wish. At the end of the day, this is just another way for the house to have an edge against you.
Overall, the RoulettePros are glad to see this game back in the permanent roster.
Frequently Asked Questions
Where can I play Live Football Roulette?
You can now play Live Football Roulette at all Playtech casinos. The table is available in the roulette table section of the live dealer lobby.
What is the best Live Football Roulette strategy?
Be wary of the Goal Side Bet and only play it passively. By focusing on the bonus, you will tank your total returns. It can be an excellent bet to play on the side, but like all bonus bets, it gives the house a more significant edge.
What is the Live Football Roulette RTP?
The return to player of Live Football Roulette is between 97.3% and 98.65%. The Goal Side Bet comes with a return to player of 95.28%
Is Live Football Roulette now permanent?
Yes, Playtech has confirmed that this table will now be a permanent addition to their overall live offering.