Deal or No Deal Roulette Strategy: How to win 150x your total bet
Deal or No Deal Roulette strategy - we show you the best ways to land 150x your stake bet on the Playzido wheel. Should you stick to the bonus bet? Here are all the facts.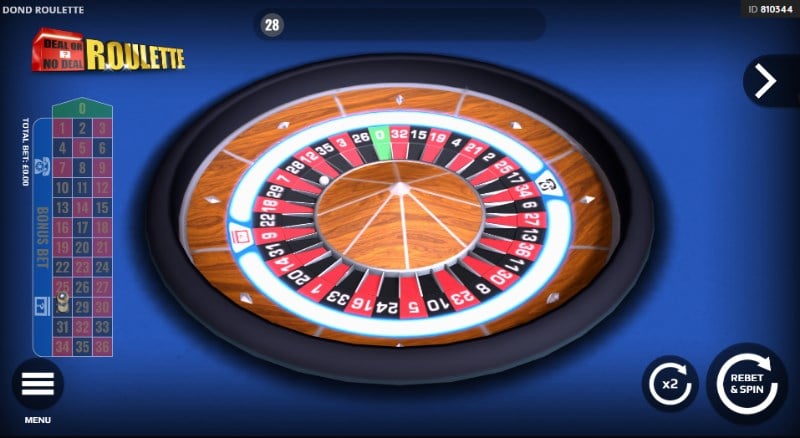 Deal or No Deal is one of the most popular game shows ever - and has inspired a swath of licensed games over the years. From bingo to slots - DOND continues to be popular with gamblers everywhere. It has even been turned into numerous roulette games.
The most recent, Deal or No Deal Roulette, is a Playzido developed European Roulette game based on the DOND franchise. The online table comes with two potential bonuses, paying up to 150x your stake bet respectively.
The bonus bet mechanic almost makes familiar strategies like the Martingale redundant. Should you abandon effective single zero strategies to focus on the bonus bet? Here we show you the best Deal or No Deal Roulette strategy.
How to win Deal or No Deal Roulette
If you choose to spin Playzido's Deal or No Deal Roulette - then the most optimal strategy is to focus on the bonus bet.
Using the strategy is simple - keep your wagers focused on the bonus bet segment.
There are two available bonuses - each of which has a chance to pay much more than a straight-up bet of 36 to 1.
But the chances of hitting the bonus are slim - you need the outer wheel symbols to align with a winning pocket.
What to avoid
Try to steer away from placing additional bets to increase your payout potential, especially on straight-up numbers.
Stats are made available for data-minded individuals, but they have no meaningful application.
Don't chase your losses - any strategy requires patience and some investment before fruition.
Deal or No Deal Roulette Bonuses
Playzido's variation of Deal or No Deal Roulette comes with two bonus features. To be eligible to enter a bonus round - you will first need to place a bet on the Bonus Bet section.
The main roulette wheel's outer edges are a white strip with two bonus symbols: a red box and a telephone. If a bonus wheel appears above a winning roulette number, then the respective feature will activate.
Here is what each feature offers:
Deal Wheel Bonus: Land the telephone symbol to activate the Deal Wheel Bonus. Before the bonus starts, you will be required to open a Red Box to reveal one of three multiplier rewards. You will now have three chances to spin the Deal Wheel. If you are happy with a prize, you can simply collect it or try to spin for something better.
Rex Box Bonus: If the red box symbol appears above a winning pocket, you will activate the Red Box Bonus. This is a classic game of Deal or No Deal which sees members picking out red boxes. After picking enough boxes, you will be allowed to speak with the Banker who will offer you money for your box's contents.
Does the Deal or No Deal Roulette strategy work?
Yes, the strategy works - eventually, you will land the perfect combination of winning pocket and bonus symbol. However, the money you pour into activating the feature may outweigh what you would win. It's also one of the many recent casino games that tries to "guilt" you into playing a bonus bet.