Instant Roulette is the Netflix of roulette... And it rocks (New Evolution Gaming)
Instant Roulette offers 12 auto roulette wheels and unlimited bet times. Is this now the best automatic roulette game? The Roulettepros take a look at Evolution Gaming's latest table.
Evolution Gaming has launched its brand new Instant Roulette tables at all partner casinos.
Played on 12 synchronised auto roulette wheels, players can experience the thrills of live games - but with instant results. There's no pressure to place a bet either - you can play the game at your own pace with minimal fuss.
Borgata Casino: New customers only. 21+ T&Cs and wagering requirements apply.
BetMGM Casino: New customers only. 21+ T&Cs and wagering requirements apply.
Stake.us Casino: Sign up with the code NEWBONUS and when you verify your account get 25 Stake Cash for free PLUS 250,000 Gold Coins! No deposit required. 21+ only. T&Cs apply. Excludes NY,NV,ID, KY,WA, MI.
When you place your bet, the wheel closest to a result will be selected as the wheel on which the bet was placed. With such cohesion and design, this creates a seamless auto roulette experience like no other.

But should you play Instant Roulette over other auto roulette games? The RoulettePros give their full opinion below.
Instant Roulette Features
Instant Roulette comes with all the features you would expect from a premium roulette game:
European wheel format used (Single Zero)
Roulette racetrack for neighbour bets
Easy to use playing interface
Chatbox to interact with fellow players
Customisable betting view and interface layout
Rebet and double options for fluid betting
Streamed live from a deluxe studio environment, the gameplay is captured with state of the art video cameras. Provided you have a good internet connection, and you will be treated to crystal clear HD visuals.
Studio & Design
Hats off to Evolution Gaming on the presentation and execution of Instant Roulette. When you place your bet, the camera will start to zoom into the next wheel drop before moving to the wheel camera for the full result.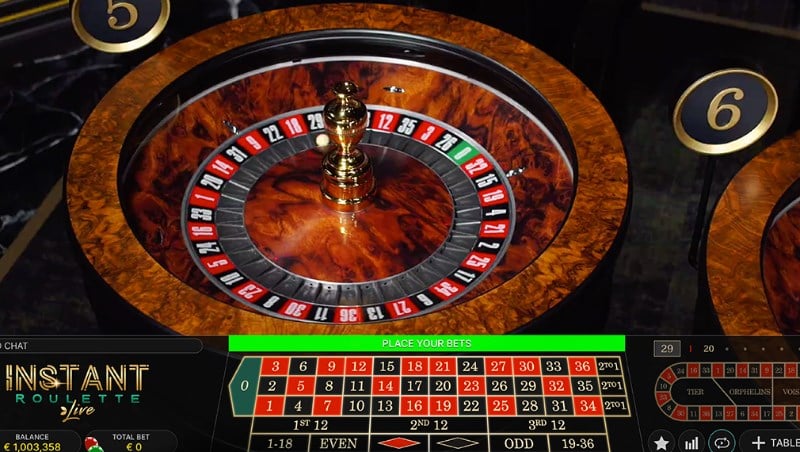 Once the result comes in, the camera moves back to its previous position observing all 12 game wheels. It's one of the smoothest auto roulette playing experiences to date.
As expected, the studio environment that houses the 12 wheels is top drawer. Watching all 12 wheels play automatically with no interruptions is mesmerising to watch (but its even more fun when you win).
Instant Roulette Review
Instant Roulette is an instant success in our books. It addresses all the negatives of existing auto roulette games. The one downside to current wheels on the market is the waiting times - even an automated game can still take time to complete. Now players don't have to wait for a result - bet and you will win/lose on demand!
One minor detriment to the Evolution Instant Roulette table is that there is a lack of side bet options. However, we feel this is a good thing - as extra complications would slow down the game.
For strategists, there's not a whole lot to say on this one - it's your standard European wheel. One positive is that you can test formations and see if it works in a few seconds.
Overall,
Evolution Gaming
stays true to its name with an impressive evolution of auto roulette.
Instant Roulette Frequently Asked Questions
Where can I play Instant Roulette?
Instant Roulette is now available at all compatible Evolution Gaming casino sites. Head to the live dealer section to view and play the game.
What is the best Instant Roulette Strategy?
The best low-risk strategy is to play red/black - returns will be even, but you will win more often. The highest risk and best payout strategy is to bet on single number bets in a pattern formation. While this way of playing reduces your balance faster, you can expect to win bigger prizes.
What is the Instant Roulette RTP?
The return to player of Instant Roulette is 97.30% as it is a European game wheel. This level of return is standard for roulette games - so you can play with full confidence.