What is the Roulette Racetrack? (Full Betting Strategy)
We look at how to use the roulette racetrack with advanced strategies and betting tactics. Learn how to get better results using the roulette racetrack.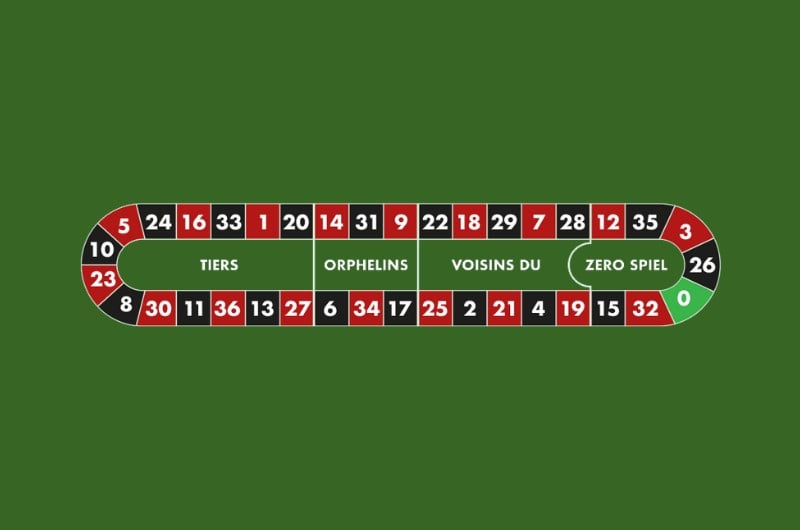 The roulette racetrack is a betting tool that helps you wager on call bets. Found commonly in European and French Roulette games, the racetrack allows you to quickly bet on:
Voisins du Zero
Tiers du Cylindre
Orphelins
Neighbours
It is named as such due to its looping shape resembling a racetrack. If the feature is available in a roulette game, it will usually appear just to the left or right of the main betting area. In
NetEnt's new mobile live roulette
, there is an option to toggle the racetrack permanently.
Continue reading on for advanced roulette racetrack strategy and a full breakdown of the call bets.
Roulette Racetrack Betting
The racetrack has 3 fixed call bets and 2 variable call bets.
Fixed Call Bets
Voisins du Zero: Covers numbers 0, 2, 3, 4, 7, 12, 15, 18, 19, 21, 22, 25, 26, 28, 29, 32 and 35. The chances of winning this call bet are 45.9% - giving it the highest odds of any available racetrack bet. It rivals even money bets like red/black for near 50/50 odds.
Tiers du Cylindre: Covers numbers 5, 8, 10, 11, 13, 16, 23, 24, 27, 30, 33 and 36. The chances of winning this call bet are 32.4% - which is an almost 1 in 3 chance of winning.
Orphelins: Covers numbers 1, 6, 9, 14, 17, 20, 31 and 34. The chances of winning this bet are 21.6%. This means you have a near 1 in 5 shot of winning.
Variable Call Bets
Neighbours: A single number bet which includes two numbers to the left and right of the selected number. This means that five numbers are bet on in total - meaning this bet costs five chips. Your odds of winning this bet are 13.5% - a near 1 in 10 chance of success.
Final: A single number bet which includes numbers that share the same final digit. For example, if you bet on 6 - you will also be placing bets on 16, 26 and 36 for four numbers in total. Betting on 7, 8 and 9 will only give you 3 total betting spaces - as the total numbers on the wheel don't exceed 36. Your odds of winning this bet are 10.8% for four numbers or 8.1% for 3 numbers.
Roulette Racetrack Strategy
The strategy to roulette racetrack betting is to pick the call bet that offers odds you are comfortable with. Each of the five call bets offers varying odds that will appeal to different kinds of players. Here is the list of call bets with our estimation of risk:
Voisins du Zero: Low risk - almost 50/50 odds (but not quite as safe as a red/black bet)
Tiers du Cylindre: Low to Medium Risk - You will end up winning almost a 3rd of the time with this call bet.
Orphelins: Medium Risk - The last of the "safe" bets.
Neighbours/Finals: High Risk - We don't recommend developing a strategy around these bets. While the payouts could be decent, it's a long shot if you will win in the first place.
Our recommended strategy: If you want to bet on the racetrack, go with Voisins du Zero. You are getting a near 50% chance of winning - so it's safe. However, we would still advise an
even-money betting system
over this.