Evolution Live Greek Roulette Rolls Out (Ελληνική ρουλέτα Ζωντανή)
Live Greek Roulette is the latest native language table from Evolution. Check out our quick overview of Ελληνική ρουλέτα Ζωντανή.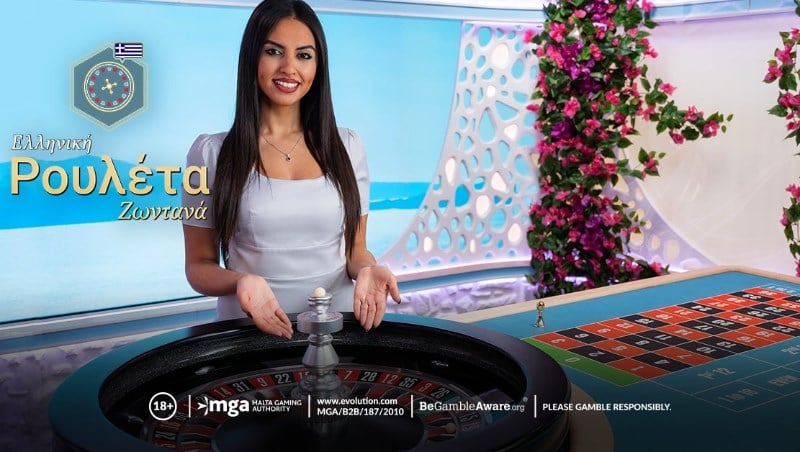 Evolution has announced yet another localised table - this time for the Greek-speaking market. Ελληνική ρουλέτα Ζωντανή - or Live Greek Roulette - is now available at select partner sites. Featuring a stunning Mediterranean inspired studio complete with beach views - this may be one of the best looking native rooms to date.
| Game Information | |
| --- | --- |
| Developer | Evolution |
| Roulette Type | Single Zero |
| Features | 100% Greek Speaking |
| Launch Date | February 2021 |
Despite the stunning studio design, only Greek speakers will be able to appreciate it completely. Throughout the game of single roulette - the dealer will only converse in Greek.
For more details, please read our short Live Greek Roulette review.
Live Greek Roulette Features
Like many of its sibling localised roulette games, Live Greek Roulette doesn't bring anything new to the table. What it does offer is the most comfortable and familiar experience for Greek speakers. Here are the basic features of the room:
Ελληνική ρουλέτα Ζωντανή is played on a single zero game wheel
Playable from mobile, tablet or PC devices
Chat with the dealer using the chat function
Customise your game view - shrink the dealer/expand the table
Adjustable video quality for poor internet connections
Racetrack available for easy neighbour betting
How to play Live Greek Roulette
Players who are familiar with European or French roulette will know what to expect from this game. At its core, this is a basic single zero roulette game.
To play, select your chip size and then place it on the betting mat. You can place wagers on one position or bet on several.
Once your bets are down, you will need to wait for the game to start. After bets are closed, the dealer will spin the game wheel. The winning bet will be whichever pocket the ball lands.
If you are looking for the latest innovations in live roulette - then we're afraid you won't find it here. There's no multipliers, no bonus bets and no RTP shredding extra pockets - it's just good old fashioned roulette built for Greek speakers.
FAQ
Where can I play Live Greek Roulette?
Evolution has now launched the game - but it's up to the casino to enable the game. Check your betting sites lobby to see if the game is visible. You could also login and directly check the live game section.
How much can I win?
The maximum prize available is 35:1 on a single number bet - the game does not offer jackpots or additional side bets.
Is it available for mobile or PC?
Yes, you can play this game on PC, mobile or tablet devices. Regardless of your playing machine, the game will fit responsively to the screen.
What is the return to player?
The return to player of Ελληνική ρουλέτα Ζωντανή is 97.30% which follows the standard return for a single zero roulette table.