Real Roulette with Sarati Review
Real Roulette with Sarati review complete with strategies. Play with beautiful Sarati on your mobile, tablet or PC device. Find out how the RoulettePros rate this roulette game.
Borgata Casino: New customers only. 21+ T&Cs and wagering requirements apply.
BetMGM Casino: New customers only. 21+ T&Cs and wagering requirements apply.
Stake.us Casino: Sign up with the code NEWBONUS and when you verify your account get 25 Stake Cash for free PLUS 250,000 Gold Coins! No deposit required. 21+ only. T&Cs apply. Excludes NY,NV,ID, KY,WA, MI.
Real Roulette with Sarati Review
Real Roulette with Sarati is one of four new live style roulette games from Real Dealer Studios. In an industry first, this online roulette game fuses stunning cinematography with RNG roulette. Thanks to expert video work, this creates an immersive experience unlike no other.
With Hollywood like production values, players can enjoy a new kind of intimacy as they gamble one on one with the beautiful Sarati. Place your bets, and you can enjoy a private gambling session, reminiscent of exclusive casinos.
Unlike live dealer casino games, all the action here is pre-recorded. But you will struggle to find two of the same clips as you play. Win or lose, the actress will react in a natural and charming manner.
The camera switches back from closeups of the wheel - to the professional actress, creating a seamless experience from bet to result. If you would like more details on this game and how it works, continue reading our full Real Roulette with Sarati review.
How to play Real Roulette with Sarati
Real Roulette with Sarati is a single zero online roulette game. With this in mind, the gameplay is identical to games in the European or French roulette categories. There are no extra side bets or jackpot elements to worry about - resulting in a familiar 2.70% house edge.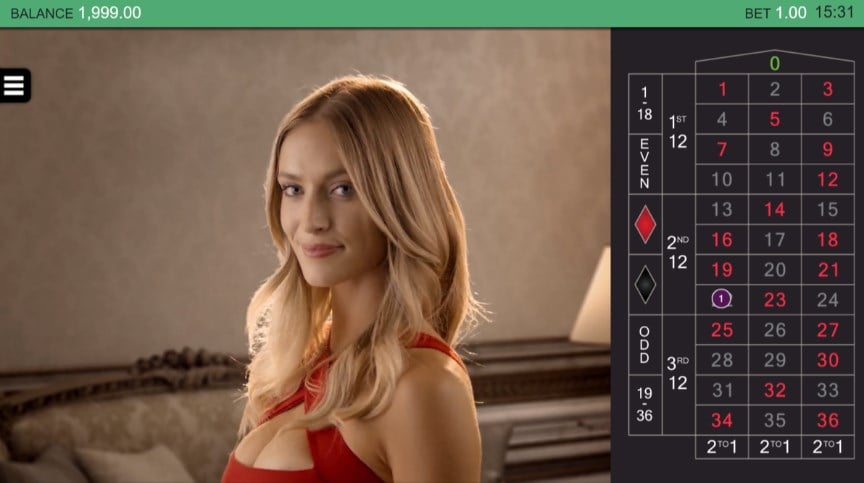 To play, you first need to bet on the winning pocket/area. You can bet on single numbers, columns, 12s, red/black - or wager on random combinations.
For neighbour bets, you can use the built-in roulette racetrack. Once you have placed your bets, press the spin button to start playing.
If you prefer certain betting combinations, you can save these formations in your favourites for later use. You can also re-bet and double up your stakes for further ease of play.
Real Roulette with Sarati Rules
Here are the game rules:
Games are played on European style single zero wheel
Min bet is 0.25
Max Bet is 1,000.00
Table Max Betting Limit: 54,500.00
Malfunctions void all bets, winnings and plays
Return to player is fixed at 97.30%
Results are generated by an RNG algorithm (fully tested and compliant with regulations)
Real Roulette with Sarati Bonus
Players can take advantage of bonuses to extend play time with Sarati. Several types of bonuses are eligible to play this game, including:
Roulette Welcome Bonus: If you are a new player, you may receive an introductory bonus when you sign up to a site. You can find a table of casinos above that award a bonus for new players signups.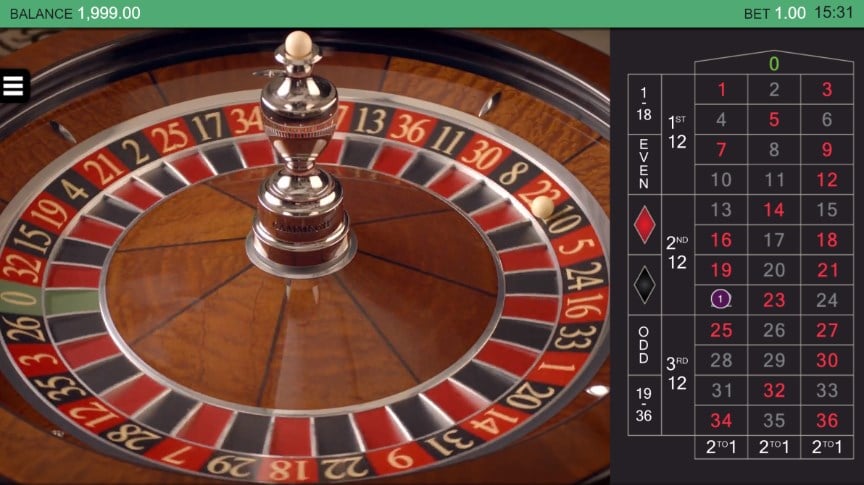 Bonus Code Offers: If you receive a bonus code, you may qualify for a special roulette bonus. Redeem this code when you sign up or enter it in to the cashier to be eligible for extra playing funds
Roulette Promotions: Keep an eye out on the promotions page of your chosen casino for enhanced offers and specialised bonuses.
Best Casinos to Play Real Roulette with Sarati
Live Roulette Casino
Pots of Gold Casino
Bwin Casino
BetVictor Casino
LeoVegas casino
Betsson Casino
Betsafe Casino
32Red Casino
Sportingbet Casino
Coral Casino
Real Roulette with Sarati Strategy
With a lack of side bets or game-changing mechanics, you can adapt tried and tested strategies. Any tactic that works in a single zero game will work here too. Some ways to play include:
Low Risk: Betting on Red or Black
One of the safest ways to enjoy this game - betting on red or black gives you the highest chance of winning. However, the prizes for this bet type are low - which means you will need to grind out your balance. If you suffer a streak of losses, prepare for Sarati to remind you of your failure!
Medium Risk: Using the Martingale
Single zero games are ideal to use the Martingale system. Using the strategy is simple: double your bets after a loss. After a win, return your bets to the base level. Keep in mind that the max betting limit for Real Roulette with Sarati is only £1,000. If your losing streak reaches this mark, you will make hefty losses.
High Risk: Reverse D'Alembert
A risky but rewarding strategy if you can ride a lucky streak. For each win, you double your bets. For each loss, you halve your total bet value. This creates a situation where you can build up chips quickly, with the chance to cash in exciting wins. Keep in mind that one loss will lead to a devastating result.
Real Roulette with Sarati Betting Software
Real Dealer Studios has designed a slick user interface that is intuitive and easy to use. Here are all the options in the game:
Main Betting Area: Here you can place your chips - tap multiple times to place multiple chips.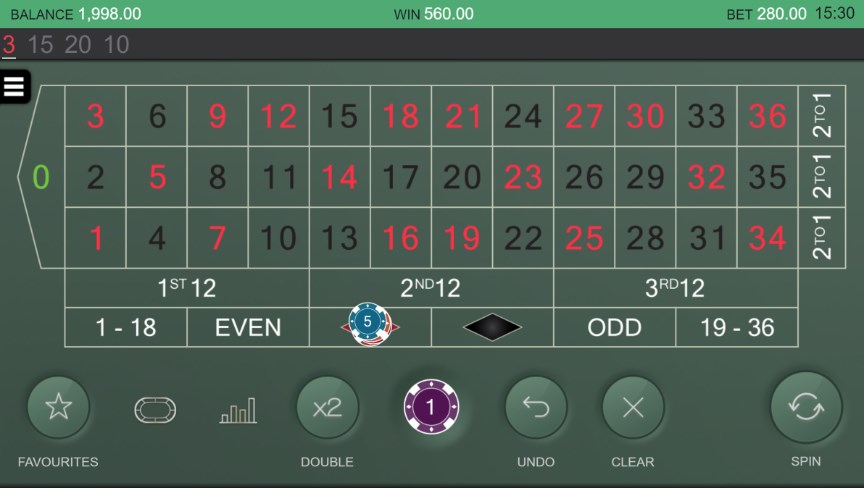 Double: If you don't want to keep tapping the screen, press the double button to increase your stakes quickly.
Roulette Racetrack: Place your bets on neighbours or classic French bets
Statistics: Here you can view data from the last 100 spins
Favourites: In this section, you can save up to six betting layouts - you can also switch to individual bets for pre-made formations.
Clear: Instantly clear all the chips currently placed on the betting area
Undo: Take away the last-placed chip, press continually to remove multiples.
Spin: Press this button to start playing
Our Verdict
Real Roulette with Sarati lives up to the hype - this is one of the most cinematic games you will find online. With pre-recorded action and a reliable RNG - there are no errors to worry about, unlike in live dealer games. However, our one criticism of this game is that it can be slow - it's one of the most time-consuming online games, with no options to skip a spin. But if you are playing this game, chances are you want to soak up the ambience and will ignore this fact completely.
Other Real Roulette Games
Real Dealer Studios lets you play with four beautiful dealers in their "Real Roulette" range of games. If you are not interested in Sarati, then try these games instead:
Frequently Asked Questions
What is the house edge of Real Roulette with Sarati?
The Real Roulette with Sarati house edge is 2.70% - resulting in a 97.30% return to player.
What is the maximum payout for Real Roulette with Sarati?
As with other European roulette game, the best payouts are available on the inside of the table, meaning straight up number bets. The best payout in Real Roulette with Sarati is 35 to 1.
Is there a Real Roulette with Sarati demo?
Yes, demos are available for Real Roulette with Sarati on casino websites that supply Real Dealer Studios software. If the option is available, there will be a play for fun option available.
Is there a Real Roulette with Sarati mobile app?
You don't need a native app to play Real Roulette with Sarati. Join a casino with Real Dealer Studios software and the game should be available to play in the mobile lobby.