Real Roulette with Holly Review
Real Roulette with Holly review complete with strategies. Play with beautiful Holly on your mobile, tablet or PC device. Find out how the RoulettePros rate this roulette game.
Borgata Casino: New customers only. 21+ T&Cs and wagering requirements apply.
BetMGM Casino: New customers only. 21+ T&Cs and wagering requirements apply.
Stake.us Casino: Sign up with the code NEWBONUS and when you verify your account get 25 Stake Cash for free PLUS 250,000 Gold Coins! No deposit required. 21+ only. T&Cs apply. Excludes NY,NV,ID, KY,WA, MI.
Real Roulette with Holly Review
Real Roulette with Holly is a new live dealer experience from Real Dealer Studios. Cinema meets RNG roulette in this unique take on live casino action. The studio employs real actors and uses a range of video production techniques to create the most immersive experience.
All action is pre-recorded and the game is powered by robust RNG, resulting in a game that is both error-free and intimate. On this table, you spin one on one with the fiery Holly. Thanks to expert camera work, it's almost as if you are enjoying your own private gambling lounge.
While the video footage is pre-recorded, there is a vast number of clips, meaning no sense of deja vu. It's almost as if you are playing with a live-streamed dealer. The game even boasts different intros each time you boot up the table.
Close-ups of the wheel, a passing gaze from Holly - the masterful video work truly enhances the gameplay, whether it be the bet or the final result. For more information, read our full and definitive Real Roulette with Holly review.
How to play Real Roulette with Holly
Real Roulette with Holly is a single zero roulette game, which is a familiar format for many roulette fans. Its the same style used for European and French roulette, resulting in a house edge of 2.70%. The table comes with no side bets, bonuses or additional jackpots, resulting in a vanilla experience.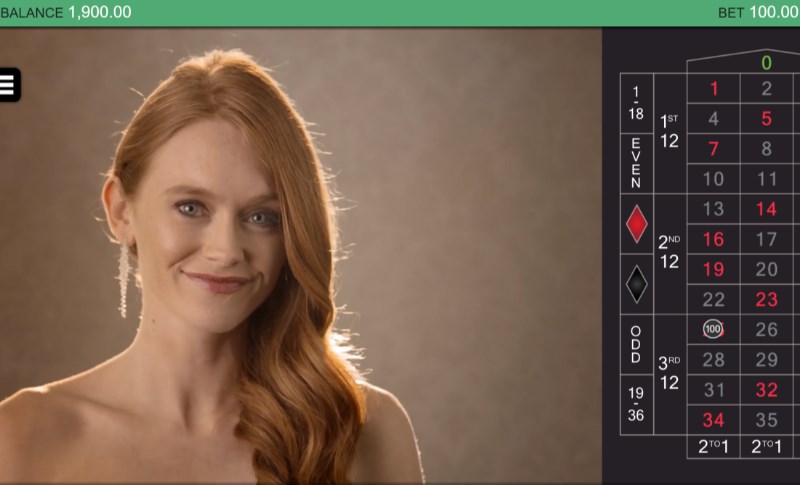 To start playing, place your chips on the betting area. Each section of the betting grid carries different odds and payouts. Simply bet where you think the virtual ball will eventually land. You can bet on single numbers, red/black, columns and much more.
For French bets and neighbours, there is a racetrack option. Press the racetrack icon to tuck away the betting area and reveal the track. If you want to switch back to the table, simply press the area again.
Have your own preferred betting layouts? You can save up to six styles in the favourites section. For added convenience, you can also switch to the special bets which feature pre-made layouts including:
Red/Black Splits
Les Voisins Du Zero
Tiers Du Cylindre
Les Orphelins
Orphelines Plein
Zero Game
007
Snake
Random 7
Real Roulette with Holly Rules
Here are the game rules:
Single Zero Roulette Wheel
Min bet is 0.25
Max Bet is 1,000.00
Table Max Betting Limit: 54,500.00
Malfunctions void all bets, winnings and plays
Return to player is fixed at 97.30%
Results are generated by an RNG algorithm (fully tested and compliant with regulations)
Real Roulette with Holly Bonus
Using a bonus can increase your playing balance, giving you more play time with Holly. You can use many different types of bonuses to play - but here are some of the most common:
Roulette Welcome Bonus: New players get the opportunity to claim an introductory bonus when they make a first deposit. This bonus is usually far more valuable than subsequent offers.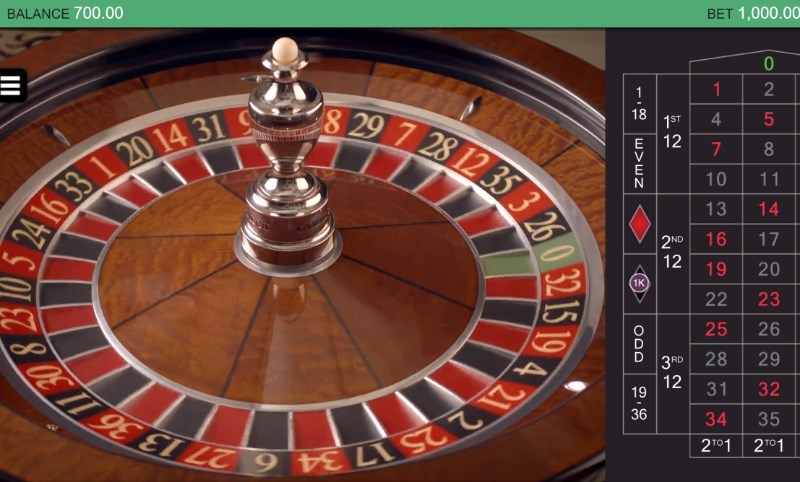 Promo Code Bonus: Using a unique code can unlock an even more valuable bonus. To claim this bonus, you will either need to enter the code on signup - or redeem when you are making a deposit.
Roulette Promotions: Visit the website's promotion page to see all the latest offers from the site.
Note: To withdraw the bonus, you will need to fulfil any wagering requirements - these can be found in the bonus terms and conditions.
Best Casinos to Play Real Roulette with Holly
Betsson Casino
Betsafe Casino
Coral Casino
Nordicbet Casino
Casino Euro
Loyal Casino
Coolbet Casino
Boom Casino
Pots of Gold
Live Roulette Casino
Real Roulette with Holly Strategy
As this is a single zero roulette game with no additional mechanics, there's no need to develop an elaborate strategy. Any tactic that works with European or French roulette will also work with this table. Here are some popular ways to play this game:
Low Risk: Betting on evens
You can choose to exclusively play red/black - or odds/even for this strategy. With the highest chance of winning out of any bet on the table, this is an excellent option for cautious beginners. Simply choose which side you want to bet on and play. Win - and Holly will share her enthusiasm. If you lose, you may receive a disappointed look...
Medium Risk: Spread betting
Spread betting in roulette involves placing many bets over the table, covering splits, corners and single numbers. The theory here is simple - inside bets produce the biggest wins. By covering the table, you give yourself a better chance of capitalising. Just keep in mind that this technique requires a substantial bankroll.
High Risk: Reverse Martingale
You may have heard of the beginner-friendly Martingale strategy. But for this tactic, we're going to flip the rules on its head. With each win, we double our bets. On a loss, we return to our original bet level. With this strategy, you can power your way through to substantial wins - unless you are thrown off the horse by a catastrophic loss. One for the risk-takers!
Real Roulette with Holly Betting Software
Real Dealer Studios software is perfectly designed with all the necessary roulette betting options.
Main Betting Area: This is where you will place your bets, tap a position to place a chip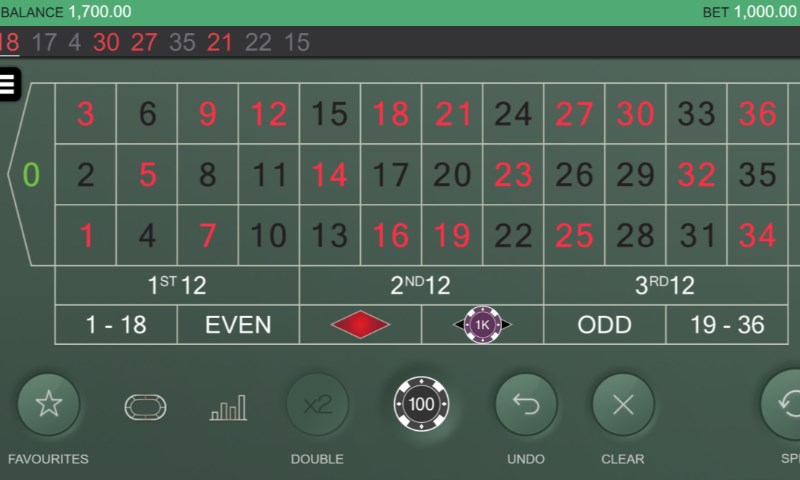 Chip Selector: Click on the chip and you will able to select from all available bets
Double: As the name suggests, you can instantly double up any bet on the table.
Roulette Racetrack: Place your bets on neighbours or classic French bets
Statistics: Here you can view data from the last 100 spins
Favourites: Save up to six betting layouts or use one of the pre-made strategies
Clear: Clear all the chips placed on the betting area
Undo: Remove the last chip placed on the betting table
Spin: Press this button to start playing
Our Verdict
Real Roulette with Holly is one of the most intimate roulette games on the internet. Thanks to the top tier video production, it feels like you are in a high roller casino, enjoying a personal session with an attractive dealer. It's worth mentioning that this game is incredibly slow-paced, with no options to speed up the spin. With this in mind, players looking for many betting sessions will want to look elsewhere. But if you have come for immersion, you are in the right place.
Other Real Roulette Games
Real Dealer Studios has created the ultimate in immersive roulette entertainment with their "Real Roulette" series. Don't want to play with Holly? Try these dealers instead:
Frequently Asked Questions
What is the house edge of Real Roulette with Holly?
The Real Roulette with Holly house edge is 2.70% - resulting in a 97.30% return to player.
What is the maximum payout for Real Roulette with Holly?
The maximum payout on Real Roulette with Holly is 35 to 1 on a successful single number bet.
Is there a Real Roulette with Holly demo?
Yes, demos are available for Real Roulette with Holly on casino websites that supply Real Dealer Studios software. If the option is available, there will be a play for fun option available.
Is there a Real Roulette with Holly mobile app?
You don't need a native app to play Real Roulette with Holly. Join a casino with Real Dealer Studios software and the game should be available to play in the mobile lobby.