Real Roulette with Caroline Review
Real Roulette with Caroline review complete with strategies. Play roulette with the charming Caroline on your mobile, tablet or PC device. Find out how the RoulettePros rate this roulette game.
Borgata Casino: New customers only. 21+ T&Cs and wagering requirements apply.
BetMGM Casino: New customers only. 21+ T&Cs and wagering requirements apply.
Stake.us Casino: Sign up with the code NEWBONUS and when you verify your account get 25 Stake Cash for free PLUS 250,000 Gold Coins! No deposit required. 21+ only. T&Cs apply. Excludes NY,NV,ID, KY,WA, MI.
Real Roulette with Caroline Review
Real Roulette with Caroline is the fourth entry in Real Dealer Studio's "Real Roulette" series. Using advanced video techniques, players get to gamble in an all-new cinematic way. In an interesting twist, all the gameplay is pre-recorded, with results generated by RNG.
With this in mind, it's possible to enjoy an error-free game - while still retaining the thrill of live dealer games. On this table, you will gamble one on one with the gorgeous Caroline, who is played by a professional actress.
Thanks to the expert video work switching between the wheel and the dealer, it feels as if you are enjoying a private gambling session at a high-class casino. Even live dealer games can't retain this level of immersion, due to the chaos of work goes on behind the scenes.
The fusion of live dealer entertainment and online roulette is genuinely an exciting prospect. But does it work? We reveal all in our Real Roulette with Caroline Review where we go over the rules, strategies and all of the game features.
How to play Real Roulette with Caroline
Real Roulette with Caroline is a single zero roulette game, which is the same format used for European and French wheels. The game comes with no extras like side bets or bonus rounds. With this in mind, the house edge on this game is a reassuring 2.70%. Ultimately, this is a vanilla roulette experience.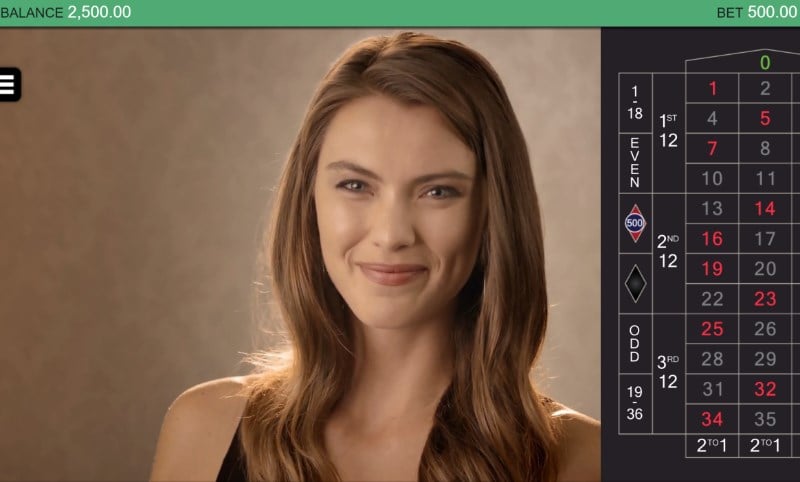 To start playing, tap or click the betting area where you think the ball will eventually land. You can use the chip selector to choose your perfect sized chip. To increase your bets, you can select a bigger chip - or tap the screen repeatedly to place multiple bets.
On the betting screen, you will see a racetrack icon - you can click this option to reveal the racetrack betting option. Here you can place French bets or wager on neighbour options. If you want to switch back to the standard table, simply click the option again.
If you prefer to use your own betting strategies, then you can save up to six formations in your favourites. You can also toggle to the special bets for pre-made betting layouts which include:
Red/Black Splits
Les Voisins Du Zero
Tiers Du Cylindre
Les Orphelins
Orphelines Plein
Zero Game
007
Snake
Random 7
Real Roulette with Caroline Rules
Here are the game rules:
Single Zero Roulette Wheel
Min bet is 0.25
Max Bet is 1,000.00
Table Max Betting Limit: 54,500.00
Malfunctions void all bets, winnings and plays
Return to player is fixed at 97.30%
Results are generated by an RNG algorithm (fully tested and compliant with regulations)
Real Roulette with Caroline Bonus
With a bonus, you can instantly increase the size of your balance, giving you more time to play with Caroline. You can take advantage of many different bonuses, but these are the most common:
Roulette Welcome Bonus: New sign-ups can take advantage of an introductory bonus which will give you more playing funds. To claim this bonus, you just need to make a deposit when you make a new account.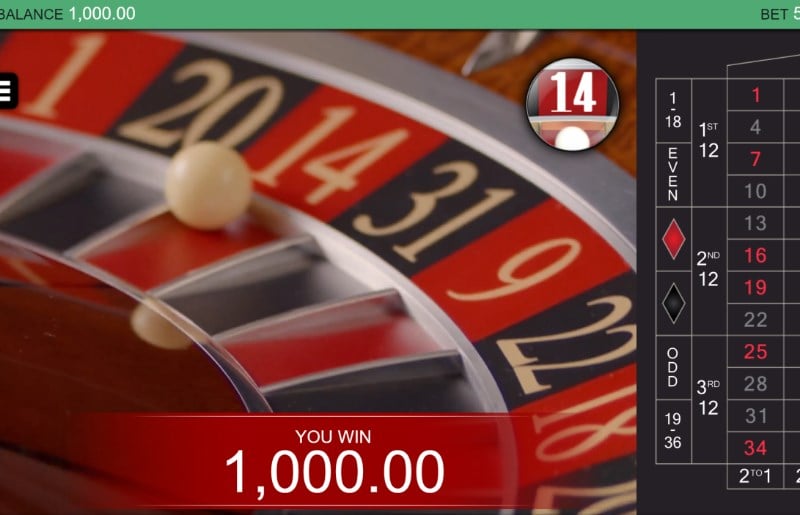 Promo Code Bonus: By using a unique code, you can qualify for a more valuable first deposit bonus. To redeem your bonus code, simply enter it when you create a new account or make a deposit.
Roulette Promotions: Almost every casino will have a page of offers with extra chances for bonus cash.
Note: To be eligible to withdraw bonus funds, you will first need to satisfy any wagering requirements.
Best Casinos to Play Real Roulette with Caroline
Live Roulette Casino
Pots of Gold Casino
Bwin Casino
BetVictor Casino
LeoVegas casino
Betsson Casino
Betsafe Casino
32Red Casino
Sportingbet Casino
Coral Casino
Real Roulette with Caroline Strategy
Despite its style and cinematic quality - Real Roulette with Caroline is a single zero roulette game. And this means that European roulette strategies will also work with the game. Here are the most popular tactics you can use - together with their risk ratings. If you are a beginner, we suggest starting with low-risk strategies first.
Low Risk: Even bets
Betting on red/black or odd/even is one of the safest ways to play roulette, as these positions have the highest chance of winning. Unfortunately, the prizes available are not that great - with winning bets paid back in even money. It will take a long time to build up a decent bankroll using this method. But on the flip side, it's also one of the lowest risk ways to play.
Medium Risk: Covering the wheel
Also known as spread betting, here we place many bets on single number positions. You can also place bets on splits and corners to cover even more of the wheel. The theory here is simple - the more areas covered, the better your chance of winning. By betting on single numbers, we also have the opportunity to score the best payout in roulette. Just be wary that you balance can quickly whittle away with successive losses.
High Risk: Reverse D'Alembert
If you want maximum risk, then try this variation of the D'Alembert. On a winning bet, you double your wager. You continue to do so until you lose, where you will then halve your bets. It's essential to be aware of the max table limit when trying this strategy. If you bet too high, you will eventually make significant losses.
Real Roulette with Caroline Betting Software
Real Dealer Studios has baked in all the essential options for roulette gamblers. Here are all the ways to bet in the game:
Main Betting Area: Tap on an area to place your chips and tap multiple times to place extras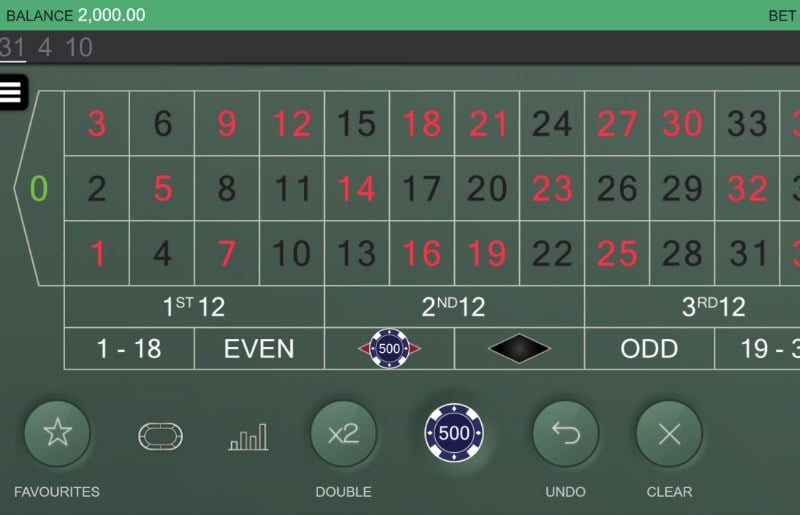 Chip Selector: Select the chip and scroll through the list of betting options
Double: This will increase all bets on the table by double
Roulette Racetrack: Press this button with switch the default betting table to the racetrack
Statistics: View the data from the last 100 game rounds
Favourites: Save your favourite bets or choose from the list of specials
Clear: Clear all the chips placed on the betting area
Undo: Remove the last chip placed on the betting table
Spin: Press this button to start playing
Our Verdict
Real Roulette with Caroline fuses the best aspects of live dealer games with all the advantages of online games. It's error-free, intimate and the presentation is on an entirely different level - this is a new standard in roulette entertainment. The only drawback here is the speed of game rounds and pace of the game in general. There's no way to rush the game rounds to a finish for more betting sessions. However, if you are looking for efficiency, you wouldn't be playing this game in the first place. If you're looking for a deluxe roulette experience - then you will undoubtedly want to try this.
Other Real Roulette Games
Real Dealer Studios gives you the opportunity to play with attratctive dealers in their new "Real Roulette" series. If you don't want to choose Caroline, then try these games instead:
Frequently Asked Questions
What is the house edge of Real Roulette with Caroline?
The Real Roulette with Caroline house edge is 2.70% - resulting in a 97.30% return to player.
What is the maximum payout for Real Roulette with Caroline?
The best payout on Real Roulette with Caroline is the single number win - which pays out at 35 to 1.
Is there a Real Roulette with Caroline Demo?
Yes, demos are available for Real Roulette with Caroline on casino websites that supply Real Dealer Studios software. If the option is available, there will be a play for fun option available.
Is there a Real Roulette with Caroline mobile app?
You don't need a native app to play Real Roulette with Caroline. Join a casino with Real Dealer Studios software and the game should be available to play in the mobile lobby.