Live Roulette Pro Review
Play Live Roulette Pro and take advantage of our leading roulette bonus codes. Sign-up today and play Live Roulette Pro through Roulettepro.com
Borgata Casino: New customers only. 21+ T&Cs and wagering requirements apply.
BetMGM Casino: New customers only. 21+ T&Cs and wagering requirements apply.
Stake.us Casino: Sign up with the code NEWBONUS and when you verify your account get 25 Stake Cash for free PLUS 250,000 Gold Coins! No deposit required. 21+ only. T&Cs apply. Excludes NY,NV,ID, KY,WA, MI.
Other than being physically present in a casino; there is no better way to enjoy roulette than at a live online casino. This page focuses on Live Roulette Pro, which is brought to us by the award-winning NetEnt Live. As you would expect from the word 'PRO', this version has all the bells and whistles. Read on to find out more and check out the best Live Roulette Pro casinos for 2020.
The little things make a big difference, and that rings true with NetEnt Live's Roulette Pro. This legendary Swedish games provider has added a few extra touches to separate this version apart from regular live roulette tables, as you will discover in our comprehensive Live Roulette Pro review.
Live Roulette Pro Game Review
NetEnt has added multiple features to differentiate Live Roulette Pro from a standard live dealer table. These include adjustable volume controls, a wider selection of camera angles and a stunning Chroma-Key background effect. Furthermore, there are statistics, such as last number, and hot and cold numbers to help you decide on your next bets.
Roulette is a delightfully straightforward game, so it literally only takes a few minutes to learn how to play it. To get started, you want to know the different roulette bets and what the odds of winning each one are.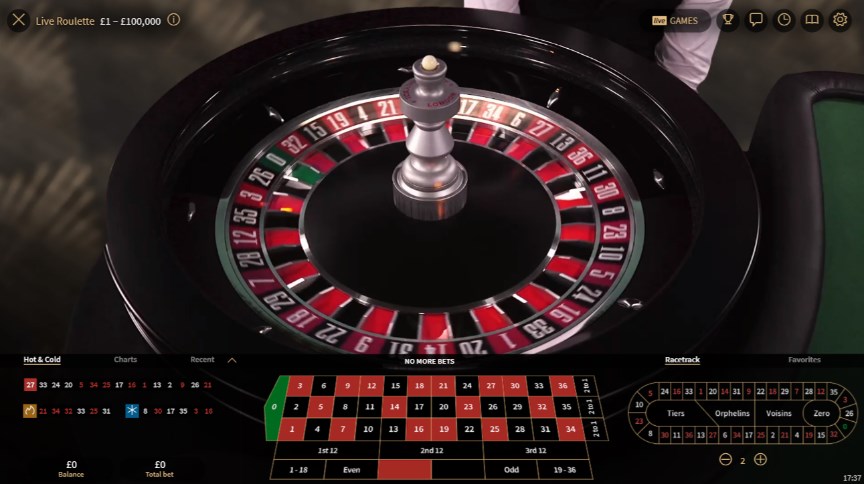 After you have taken a seat at the Live Roulette Pro table, you may need to wait a few seconds before placing a bet (if it is in the middle of a round). Once the round is over, and the winning number is called; the dealer will ask players to place their bets. Several denominations of chips are available, so you can choose a stake to suit your budget.
All of the usual betting options are at your fingertips. You can place bets on single number bets, columns, dozens and colours, among others. When the dealer declares 'No more bets', it's time to sit back for a second and watch as the ball spins around the wheel.
When you strip Live Roulette Pro down to its basic form; this is European Roulette. Therefore, the rules and payouts are standardised.
The wheel contains 37 pockets, with one green pocket bearing the number zero (0). The other pockets, which are numbered from 1 - 36, are equally coloured between red and black. These are the most common bets available in Live Roulette Pro and their respective payouts.
| Bet | Payout |
| --- | --- |
| Single number / Straight up | 35 to 1 |
| Split (two numbers) | 17 to 1 |
| Row / Street (three numbers) | 11 to 1 |
| Corners (four numbers) | 8 to 1 |
| Two rows / Double street (six numbers) | 5 to 1 |
| Columns & Dozens | 2 to 1 |
| Colours, high/low & odd/even | 1 to 1 |
In regards to table bet limits, Live Roulette Pro offers far higher limits than a regular table. For even money bets (red/black, odd/even, and high/low), you can stake up to £10,000 a round.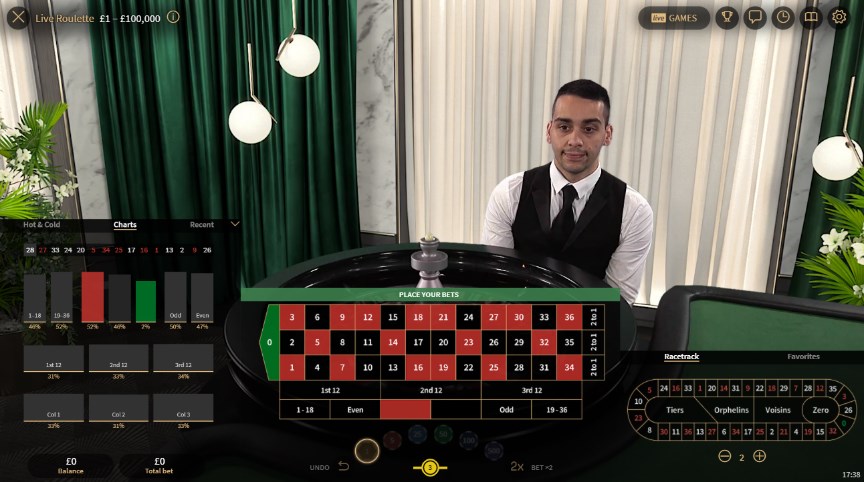 The limits for inside bets are rather impressive as well, with Roulette Pro accepting wagers up to £750 on single numbers. That equates to an eye-catching £27,000 payout if your number is right.
While it's tempting to be swayed by these impressive payouts, it's vital that you play within your limits and never chase losses. Roulette is a fun and relaxing game, so enjoy it for its entertainment factor.
Please note: the minimum and maximum betting limits can vary from casino to casino.
Many people claim to have roulette strategies that win 100% of the time. The cold, hard truth is that this is not possible. Live Roulette Pro using European Roulette rules has an RTP of 97.30%. In other words, players can expect to win £97.30 for every £100 wagered (over the lifetime of the game). This percentage is fixed; there is nothing that the player can do to change it.
Other than choosing which bets to place, the only control you have is how much stake each round. This is where you can use a roulette betting system. There are negative progression systems which involve raising your bets after a losing spin, and positive progression betting strategies where you increase the bet after a win. Neither of these alters the RTP, but it's more interesting than flat betting all the time.
Betting Software - Our Verdict
The live roulette sector is extremely competitive with several top games providers going head-to-head to capture your custom. Where NetEnt Live Roulette Pro stands out is in its wide betting range. The lower limits enable most players to get the PRO experience, but these are also suitable tables for high-stakes players.
We definitely recommend giving this game a try at one of the Live Roulette listed above. The RTP is in-line with many other roulette games, so you get full value and a tremendous experience with the professionally-trained NetEnt Live live dealers.
FAQs
Is Live Roulette Pro accessible on mobiles?
Yes, it is. NetEnt has done a fantastic job in tailoring the Live Roulette Pro experience for players on tablets and mobile phones. We do advise that you have a strong and stable internet connection when playing remotely, particularly as this is a live game.
Is Live Roulette Pro only for professional players?
No, not in the slightest. Essentially, the PRO simply means an improved gaming experience with more camera angles and an assortment of other features that give it an edge over regular tables.
What casino bonuses can I get to play Live Roulette Pro?
The best offers available to play Live Roulette Pro are live casino welcome bonuses. These promotions are specifically designed for players wanting to enjoy live games. As with all bonuses; you must read the terms and conditions in advance so that you are aware of the wagering requirements and other stipulations.