Brasileira Roleta Ao Vivo Launch: Evolution Brazilian Live Roulette Now Available
Brasileira Roleta Ao Vivo is Evolution's next native language roulette game. Set in a stunning studio complete with Rio de Janeiro backdrop - the room is an impressive alternative for Portuguese speakers.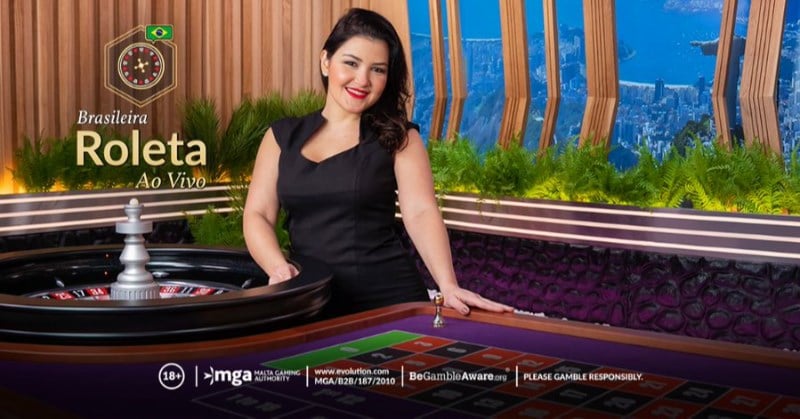 Evolution has revealed a brand new native language table: Brasileira Roleta Ao Vivo. Brazilian Live Roulette boasts a brand new studio environment - complete with a backdrop of Rio de Janeiro. It's one of Evolutions most impressive rooms yet.
| Game Information | |
| --- | --- |
| Developer | Evolution |
| Roulette Type | Single Zero |
| Features | 100% Portuguese Speaking |
| Launch Date | January 2021 |
While the room does boast beautiful aesthetics, it's entirely wasted on English speakers. The room is designed for Portuguese speaking roulette players - and the dealer will converse exclusively in this language.
For more details on the game, read our short Brasileira Roleta Ao Vivo review.
Brasileira Roleta Ao Vivo Features
Like Evolution's other native language rooms - Brasileira Roleta Ao Vivo doesn't innovate in features nor gameplay. Instead, it focuses on delivering an unparalleled localised experience. But there are some aspects of the game to talk about:
Brazilian Live Roulette is played on a single zero roulette wheel
Available on mobile and tablet devices
In-game chat allows you to talk with dealer or players
Customisable game view - expand table size, shrink videos
Change video settings to match your internet connection
Roulette racetrack available to be on neighbours
How to play Brazilian Live Roulette
If you are familiar with the single zero wheel - and have played live roulette before, you have all the required knowledge.
To start playing, place your wagers on the betting table. How much you bet will depend on the betting limits of the casino.
Once you have placed your bets, you will need to wait for a game to begin. The dealer will now spin the wheel - whichever pocket the ball lands in wins.
To reiterate, there are no bonus bets, jackpots or multiplier features. This is a classic game of European roulette - made much more accessible for Portuguese native speakers.
FAQ
Where can I play Brasileira Roleta Ao Vivo?
Brasileira Roleta Ao Vivo is available at selection Evolution casinos - check with your provider if they supply the game. Or you can search for the game name in the lobby.
How much can I win on Brazilian Live Roulette?
The maximum prize available is 35:1 on a single number bet - the game does not offer jackpots or additional side bets.
Can I play on mobile or PC?
Yes, you can enjoy Brasileira Roleta Ao Vivo on both platforms. The room has been designed as responsive as possible to match all screen sizes.
What is the return to player?
The return to player of Brazilian Live Roulette is 97.30% which follows the standard return for a single zero roulette table.