100/1 Roulette Review
100/1 Roulette Online review complete with play guide and top strategies. We show you the best ways to play and bet on 100/1 Roulette. Latest 100 to 1 Roulette bonuses right here.
100/1 Roulette Review
100/1 Roulette is an online roulette game that literally reinvents the wheel. Instead of a traditional single zero wheel layout of 37 numbers, this game features a total of 105 winning pockets. With your betting options tripled, this virtual roulette game opens up new opportunities. Thanks to a smart betting interface and clear options, this isn't as overwhelming as it may seem.
However, due to the profound changes to the layout of the wheel, the house edge is altered significantly. Some bets are also much riskier on this style of game wheel. For example, the safe/red black bet now has a new element of uncertainty thanks to four additional dead pockets. For more information on how 100 to 1 Roulette works, please read our full guide below.
How to play 100 to 1 Roulette
100 to 1 Roulette is a unique roulette game that uses a custom game wheel with 105 betting pockets. Pockets numbered 1 - 100 alternate between red/black, while five green pockets are different kinds of shapes.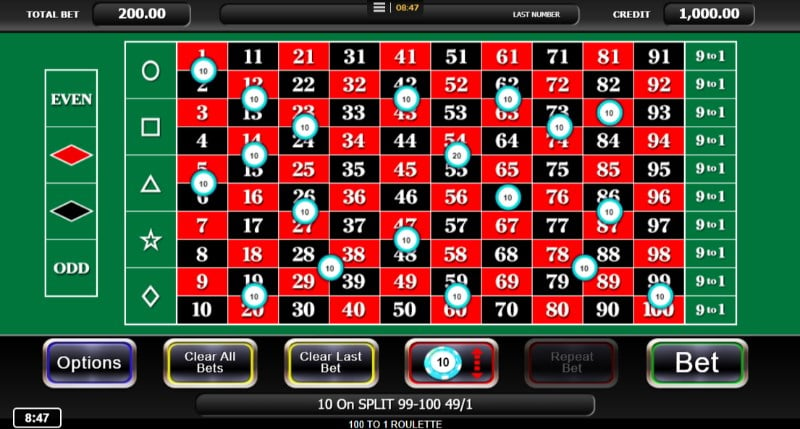 To start a game, place your bets on the new betting area, which accommodates for all 105 potential betting positions. As with a traditional game of roulette, you can opt for outside bets, inside bets, combinations or a mix.
Once you are ready to play, press the spin button. You will now see the game round in action. If you want to skip straight to the result, press the turbo option.
The seamless transitions, easy to use betting area and a vast range of betting options offer an exciting alternative to roulette players.
100/1 Roulette Payouts
Here are all the bets available in 100 to 1 Roulette and the winnings:
| Bet | Pays |
| --- | --- |
| Single Number | 100:1 |
| Pair of Numbers | 49:1 |
| Split (Three Numbers) | 32:1 |
| Corner (Four Numbers) | 24:1 |
| Street (Five Numbers) | 19:1 |
| 10 Number Street/Column | 9:1 |
| Fifteen Number Avenue | 11/2 |
| Twenty Number Avenue | 4/1 |
| Even Numbers | Evens |
| Odd Numbers | Evens |
| Red | Evens |
| Black | Evens |
100/1 Roulette Rules
Min bet is 0.10
Max Bet is 250.00
Max available win: 100,000
Malfunctions void all bets and plays
Return to player is between 92.86% and 96.19%
Results are generated by an RNG algorithm (fully tested and compliant with regulations)
100/1 Roulette Bonus
Extending your play time is simple when you use a welcome bonus. Almost every casino will award extra funds to play 100/1 Roulette. Here are the most common kinds of bonuses:
Welcome Bonus: The introductory offer is an unbeatable way to land more playing funds. Deposit with a new player account and you will receive extra bonus.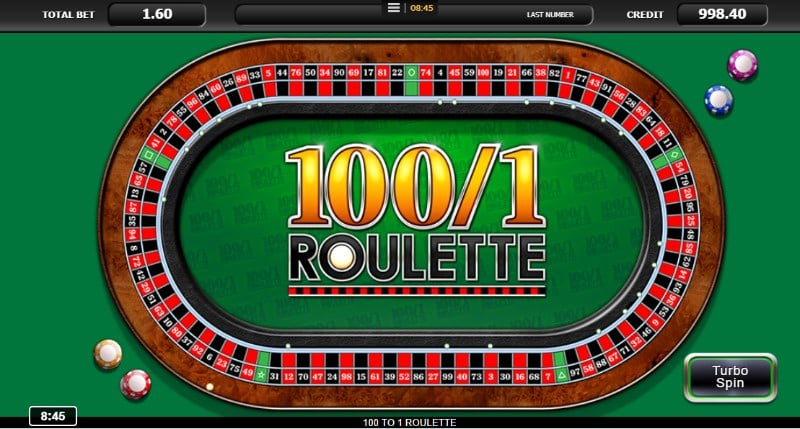 Promo Code Offer: Some online casinos will award extra betting cash by using a special code. Enter the code when you sign up to qualify.
Roulette Promotions: All casinos have an offers page with new incentives to look forward to. Check this space for details of new bonuses.
Best Casinos to Play 100 to 1 Roulette
Betfair Casino
LeoVegas Casino
Mr Green Casino
Sportingbet Casino
Casino Las Vegas
Coral Casino
SB Casino
Party Casino
Bwin Casino
Casumo Casino
100 to 1 Roulette Strategy
The best 100/1 strategy is to play a spread betting strategy on single number bets. One option is to bet on ten numbers at a time; a single win will recoup all of your potential losses, leaving you with potential profits.
The worst strategy is to focus on even money bets, as you not only have less chance of winning - red/black bets payout at the same rate as a European table.
Strategy explained
100 to 1 Roulette gives plays the chance to win 100x your total staked bet for a straight-up number bet. It's an exciting proposition for high stakes players with the opportunity for unprecedented rewards. However, the volume of betting positions in this game means that landing a single number bet is exceptionally slim.
A single number win in 100 to 1 Roulette has a 0.95% chance
In a European roulette game, a single number win has a 2.70% chance
Therefore, it's best to not rely on single number bets - you should try to improve your chances by spreading your options.
Red/black players will also be playing at a disadvantage, as this game pays out less frequently than a European wheel.
A red/black win in 100/1 Roulette has a 47.61% chance
A red/black win in European Roulette has a 48.60% chance
Considering 100 to 1 pays the same even money - it's a worse proposition overall.
100 to 1 Roulette Betting Software
Despite the overwhelming number of betting options, the software is remarkably simple to use. Here are all the features/options:
Main Betting Area: Here you can place your bets on a wide selection of outcomes

Last Numbers: At the top of the screen, you will find the last winning numbers
Turbo Spin: During a game, you can press the Turbo Spin button to complete the game round instantly
Our Verdict
It's hard to recommend 100 to 1 Roulette - and we are not sure if a dedicated roulette fan would enjoy this game. The idea of a 100+ pocket wheel is entertaining and on the face of it, exciting. But you receive worse odds on the two main types of bets. If you want to try something different, then give this one a go - but there are better payout options out there.
Frequently Asked Questions
What is the 100/1 Roulette RTP?
The return to player of 100/1 Roulette can range from 92.86% to 96.19%. The RTP will depend on the strategy you are using as you play the game. A safer approach will result in higher RTP.

How much can I win on 100 to 1 Roulette?
The maximum win on 100 to 1 Roulette is via a single number bet. If you win on a unique number, you will win 100x your total staked bet.
Can you play 100/1 Roulette free?
Yes, there is a demo version of the game available at select online casinos. This will let you play the game for free with no impact to your real money balance. If you are based in the UK, you will first have to verify your age before accessing a free play version.
What is the best 100 to 1 Roulette strategy?
The best strategy in 100/1 Roulette is to place several or more bets on single number bets. This will allow you to benefit from the 100 to 1 payout on straight-up numbers.