Prestige Roulette Review
Set in an intimate and luxurious neon-lit studio, Prestige Roulette features multiple cameras and instant replays to ramp up the gaming tension.
Prestige Roulette Review
The Playtech Prestige Roulette game was designed to contend with Evolution's Immersive Roulette. Set in an intimate and luxurious neon-lit studio, this game features multiple cameras and instant replays to ramp up the gaming tension.
Quickfire betting sessions also triple the thrills for even more betting action. The main points of focus in this room are the presenting dealer and the European game wheel.
We had one simple question before starting this review. How could Playtech diversify from Evolution's own luxury offer? And the answer: by offering better service and a more personal playing experience. Which is some feat considering the competition.
Room Design - Playtech loves a simple room layout. And it's no surprise that this room only features two focal points: the game dealer and the roulette wheel. There's also the neon background - which is fairly unobtrusive for the most part. It's a simple, yet effective design.
Betting Interface - As expected of the world's biggest gaming provider, the controls here are pitch perfect. Generous spaces and the easy to use interface make for a comfortable betting experience. Best of all? It works just as well on mobile as it does on PC.
Gameplay - As this a European game, you shouldn't go in and experience a life-changing game of roulette. What you will find is a relaxing and almost luxurious playing experience. It's the kind of room where you can let your troubles melt away.
Dealer Quality - Playtech dealers are fantastic and have struck as being some of the most personable around. With their friendly demeanor and love of chatting, you are sure to strike up a conversation in no time. And if you do want to get involved, you can use the chat window.
Payouts - This isn't the kind of room that will provide earth-shattering payouts. But you can look forward to decent sized wins if you choose to bet on the risky inside numbers. Your maximum pay here is a 35 to 1 straight up bet.
How to play Prestige Roulette
Here's how to quickly play and win in Prestige Roulette:
Choose where you want to bet on the betting area
Select your chip size and place it on the betting table
Once bets are finalised, the dealer will spin the wheel
If you win, your bet will be paid before the next game starts
Placing your bets: The main betting area shows you all the places you can bet in the game. Tap a single number or outside bet to place a single chip. Selecting multiple times will increase the value of your bets and the amount of chips you place.
Setting autoplay: Select the autoplay button and set how many spins you wish the game to play for. The bets currently on the betting table will be used during autoplay. You can also set a loss limit - which will halt autoplay once a certain threshold has been reacehd.
Prestige Roulette Rules
Here are the main game rules for Prestige Roulette:
Min Bet: £0.50p
Max Bet on Inside: £50
Return to Player: 97.30%
Malfunctions void all bets and plays
Prestige Roulette Bonus
Finding a Prestige Roulette casino is relatively easy - there are a huge number of high-quality Playtech casinos out there. But it is worth noting that there are also plenty of bad actors. All of the site on this page were hand selected for their unrivalled quality and exceptional service.
We also recommend looking out for casinos that offer an attractive welcome bonus. Just don't become too fixated on the bonus itself: you will also want to pay attention to the terms and conditions. More often than not, these terms can drastically change how you will feel about a bonus.
While we are on the subject of bonus, make sure that you will be able to claim plenty of bonus rewards after the fact. There's nothing worse than joining a site and realising there will be nothing else going forward.
Evolution finally has some competition for their Roulette table - the Playtech Prestige Roulette game is every bit the interactive betting experience you could hope for and then some.
Best Casinos to Play Prestige Roulette
Betfred Casino
Betfair Casino
bet365 Casino
Paddy Power Casino
bgo Casino
Ladbrokes Casino
Coral Casino
William Hill Casino
Casino.com
Grosvenor Casino
Prestige Roulette Strategy
It's hard to merely see this game as a European roulette wheel with all the HD splendour and cutting edge camera work. But this is indeed a European roulette wheel and that means betting strategies which focus on the outside of the betting area can be used for this game.
One of the most popular systems in this regard is the Martingale system, a strategy that involves doubling up on any losing spin to make back the bet. While certainly effective, it does have several flaws (like table betting limits) that one should factor in.
To take advantage of inside bets, players can choose to adopt a medium risk spread betting strategy. Place your chips on groups of single number bets - or on split bets. By covering a wide betting area, you have more chances to hit these lucrative numbers.
Prestige Roulette Betting Software
Playtech's flagship roulette game features all the traditional betting options - but it also innovates with a number of unique betting controls, including the Lucky Dip. Here's an explanation of all the features:
Main Betting Area: Here you can place your bets by tapping on the betting area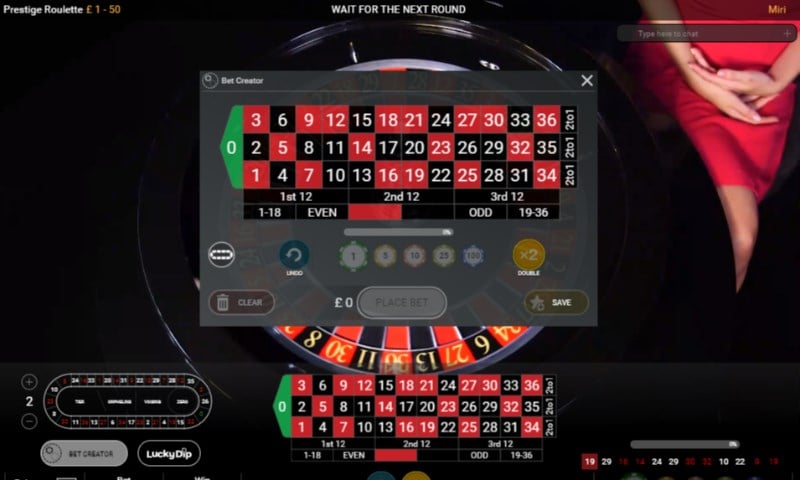 Roulette Racetrack: Available on the left side of the UI - here you can select French bets or neighbours
Bet Creator: Create your favourite betting layouts and save them for later access - you can also use the racetrack to create bets.
Lucky Dip: Populate the betting table with a random selection of bets: you can choose to place 5, 7 and 8 bets.
Our Verdict
It's fair to say that live casino has made playing casino games more accessible to players. But sometimes, it can still feel like you are playing a virtual game with a static dealer and fixed camera angles.
With Prestige Roulette, you get a deluxe gaming experience, with all sorts of camera angles capturing the action in exquisite detail. A close up of the wheel one moment, a shot overhead the next; this is an organic roulette experience.
The thrills only continue to build with action replays of the game outcomes, focusing in on the action in the most intimate way.
In terms of what kind of roulette this is, experienced players will be likely pleased to hear that this is a European wheel, meaning only one zero pocket. This means that the house edge for this game is relatively low compared to something like American roulette.
Due to the luxury and esteem associated with this game, you will Playtech casinos like to offer this as a high stakes alternative. And considering that this is a European wheel, high rollers will find this wheel appealing. Combined with the VIP service - and it's easy to label this room as premium.
Playtech is on par with Evolution in the live casino stakes and their dealers are reflective of their status. Friendly, personable and flawlessly presentable - no matter which dealer you choose, prepare for a premium playing experience.
When you enter the gaming lobby, you will be able to see which dealers you can play with alongside the table details (like limits for example). Once you enter the room, you can choose to be a silent party or engage in conversation.
The compact studio really lends itself well to interactivity - and this is a far more cozy experience than you will find in other rooms.