London Roulette Review
London Roulette live review with the best strategies and bonuses. The RoulettePros take a look at this roulette game built explicitly for English speaking players. Latest bonuses and strategies right here.
Where to play London Roulette
1
BC.Game Sweepstake Casino
Player Rating
Our Score
9.9
Read Review
Claim Now
18+. T&Cs apply
London Roulette Review
London Roulette is one of Evolution Gaming's localised live roulette tables. In this single zero game, a native speaking English dealer oversees the action. Adding to the experience is the studio design, which mirrors a swanky West End casino.
It's one of several native speaking tables available from the software supplier which also includes:
Venezia Roulette
Svensk Roulette
With home comforts and a familiar dialect, pure English speakers can feel confident in placing their red/black bets here. Of course, this room also offers a rich experience to roulette enthusiasts who use English as a second language. To learn more about this game, please continue reading our London Roulette review.
How to play London Roulette
If you have ever wagered on a roulette table before, then you should find London Roulette easy to play. Here's a step by step process of how each round goes.
Betting Round - There is an 18 second interval where you can place your bets before each spin. Select a chip from the list of stake options and click where you want to put your bet on the table. You can also use the racetrack for neighbour options.
Bets Close - After the 18 seconds are up, all wagers are locked in, and the croupier will spin the ball on the roulette wheel.
Results Round - When the metal billiard lands in a pocket, winning bets will be paid and the 18 second betting round starts again.
London Roulette Rules
Here are the main game rules:
Min Bet: 0.50
Max Bet: 8,000.00
Return to player: 97.30%
Malfunctions void bet and players
London Roulette is played on a single zero TCS John Huxley wheel, following European Roulette rules. This means players can look forward to an attractive 2.70% house edge. However, there are no extra side bets or groundbreaking features to discuss - which is par for the course in native speaking games.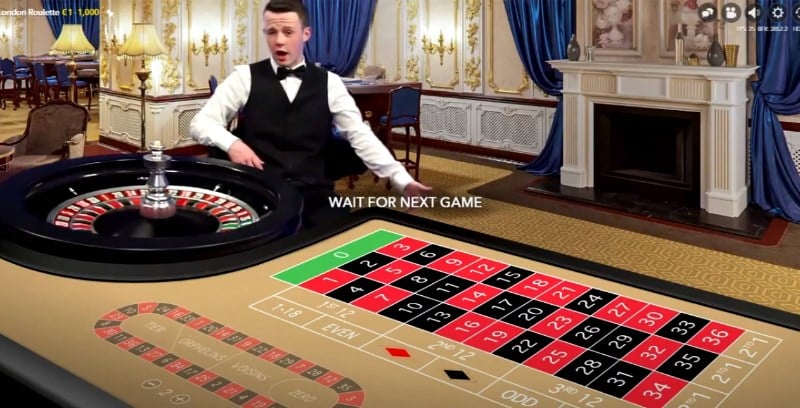 London Roulette takes design inspiration from the prestigious casinos of the capital's West End. These establishments are known for a certain level of decadence and elitism, which is perfectly reflected in the design. Marbled surfaces, golden wall panels and velvet curtains complete the luxurious look.
The croupier will speak English 100% of the time - and we find them to be much chattier than dealers in other English speaking rooms. If you enjoy a chat, then you will certainly enjoy the level of banter in this room. To interact with the dealer, press the Click to Chat button and type a message.
London Roulette Bonus
If you want to sample what roulette is like in a West End casino, then there are plenty of opportunities to play this game with a bonus. The most accessible way is to take advantage of online casino bonuses.
New players at a casino typically qualify for an introductory bonus, usually a cash match. Using these bonuses can increase your bankroll, allowing you to spend more time betting in the London Roulette room.
Online casinos will also have a dedicated offers page where you can find details of promo codes or other bonuses.
Best Casinos to Play London Roulette
LeoVegas Casino
Casumo Casino
Pots of Gold Casino
Mr Green Casino
Grosvenor Casino
Royal Panda Casino
BetVictor Casino
Sportingbet Casino
William Hill Casino
bwin Casino
London Roulette Strategy
London Roulette is a single zero game, meaning strategies for European and French roulette games can be applied here. Here are some popular strategies you can try - together with their risk level.
Low Risk: Red/Black System
One of the most beginner friendly strategies: simply place a bet on the red or black option. The advantage of the red/black system is that it's easy to learn - and returns at a decent rate. However, the low payouts may not impress more experienced players.
Medium Risk: Martingale
The Martingale works best with the even money bets. To start, select a bet level and stick with it. With this strategy, you don't increase or lower your bet levels while you play. Instead, you react to wins or losses. In the event of a loss, you increase your bet by one unit - you continue to do so until you win. When you win, return your bets back to the starting level.
High Risk: Reverse Martingale
The Martingale is a popular strategy that is mathematically perfect. With an unlimited bankroll and table betting limits, its impossible to lose. However, the reverse version of this strategy is much more dangerous. Each time you win, you increase your wagers by one - if you lose, you return to your original betting level. While winning streaks are rewarded, losses can be damaging.
London Roulette Betting Software
Evolution Gaming serves up its high quality user interface which is both easy to use and intuitive. Here are all the features:
Main betting area: Select where you want to bet to place your chips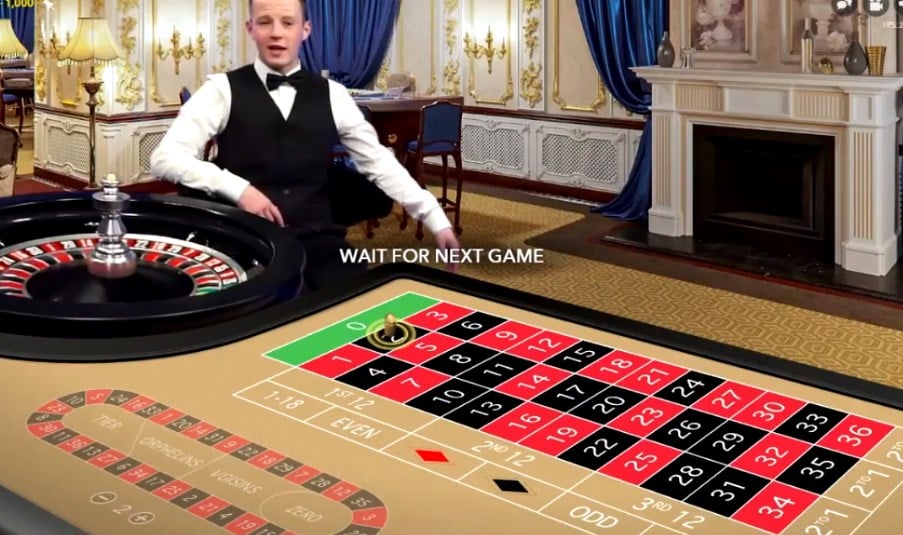 Roulette Racetrack: Here you can select French or Neighbour bets
Cusomisable Strategies: Save betting layouts to use for later games
Statistics: View the wheel's hottest numbers and the coldest.
Our Verdict
Ever wanted to feel like a high roller placing their bets at historical places like Crockfords? Then this is the table for you. The excellent studio design is reason to have a spin on this table alone. The chatty dealer is also a notable highlight, which is ideal for more social roulette players. All in all, London Roulette puts in a Great British performance. Check out the compatible casinos with this game today.
Frequently Asked Questions
What is the house edge of London Roulette?
The London Roulette house edge is 2.70% - resulting in a 97.30% return to player, which is the expected return from a single zero roulette wheel like this.
What is the maximum payout for London Roulette?
The best payout in London Roulette is the single number bet - which pays 35 to 1. However, this is one of the more risky bets in the game - hence the high payout potential.
Is there a London Roulette demo?
London Roulette is a live dealer game, so there are no demos available. However, if you join a casino and verify your account, you can enter the room with no need to place wagers. If you want to get a feel for the game, then this is an ideal solution.
Is there a London Roulette mobile app?
London Roulette does not come with its mobile app - but Evolution Gaming casinos may offer the game inside their native apps.