Evolution Auto Roulette Review
Auto Roulette is a live dealer roulette game powered by Evolution. Unlike traditional live games, this room does not feature a dealer. And oddly: this has plenty of benefits.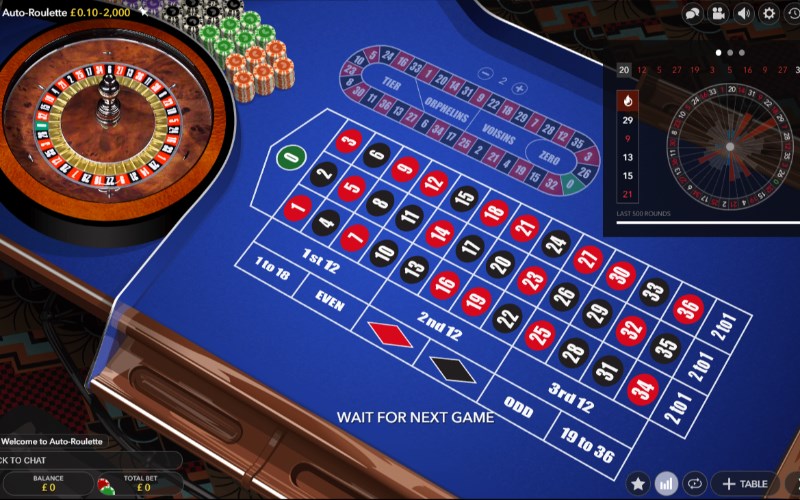 Evolution Auto Roulette
Auto Roulette is a live dealer roulette game powered by Evolution. Unlike traditional live games, this room does not feature a dealer. In fact, the wheel plays itself with minimal human interaction. While this may sound odd on the surface, it actually provides multiple benefits.
For example, the number of game rounds. Thanks to the automatic playing wheel and minimal player interaction - you can enjoy far more betting sessions. This wheel plays 24 hours a day, cramming in 80 betting sessions every single hour.
Evolution Auto Roulette Review
When we started our Evolution Auto Roulette review, we were cautious, to say the least. A live dealer roulette room - with no dealer? How can a live game work with no interactivity? After several game rounds, we begun to appreciate the unique format of this live experience. And more importantly: we understood why someone would seek out this unique game format.
Room Design - There's little to say about the room design - as the camera is so close to the wheel. But the wheel itself is very stylish, boasting a polished wood finish. This is the kind of wheel that wouldn't look out of place at a premium land based establishment.
Betting Interface - Evolution has one of the most intuitive user interfaces of all live casino providers. Changing bets, doubling up or re-betting are all simple tasks. You also have the option to place bets on a traditional betting table - or via the racetrack format.
Gameplay - Action takes place on a European Roulette wheel - but Evolution also stocks a La Partage variant. There are no notable side bets or jackpot elements to this game - it's the same old roulette you know and love, albeit much quicker.
Dealer Quality - Usually, we reserve this space to discuss our impression of the dealer. But we have nothing to say with no dealer present! This makes for a solitary playing experience overall, but one that does have certain benefits.
Payouts - There are no additional jackpot prizes or side bet payouts in this game of roulette. That means the wheel pays out based on a standard European format. Single number bets award a 35 to 1 payout - while outside bets pay even.
Settings & Options - Evolution rooms boast a number of useful options to enhance the playing experience. The video options, in particular, can drastically improve the quality of the stream if you are playing with an unfavourable internet connection.
What is Evolution Auto Roulette
Evolution Auto Roulette is an automatic roulette wheel that plays by itself - with no live dealers involved. This is thanks to award-winning air power technology which ejects the balls.
The concept of a live dealer roulette game with no dealer is hard for some players to get their heads round. What's the point in a live game if there's no croupier? After all, isn't this the point in live dealer games?
While there is some truth to this, Auto Roulette does offer several advantages. Chief among these is game round speed. In a normal game of live roulette, you can expect every game round to be about two minutes in length. In this game, times are reduced by almost 50% - doubling the overall betting sessions available.
And while real dealers are good for chatting and interactions, they can be prone to mistakes. This can further slow down the gameplay and have an impact on results. But thanks to the precision technology, this wheel players itself with almost zero errors.
The final important advantage of Auto Roulette is that it is an actual game wheel. And for fans of my solitary games like virtual roulette, this can be a determining factor. Instead of having your results judged by a computer algorithm - you can let lady luck literally take the wheel.
Automatic Roulette games are certainly not for everyone. In fact, we wouldn't recommend them for players who enjoy the company of real dealers at all. But for players that just want the thrill of roulette in a mistake free and well-paced environment - this room is perfect.
Evolution Auto Roulette Casinos
Evolution is the market leaders in live casino games. And it's not hard to find their games at 90% of the casinos online. But finding an Evolution casino can still be a chore - with all the competition fighting for you on the market. If you are looking for a new site, however, then there are some things to look out for that will make your gaming experience far more enjoyable.
Other Auto Roulette Games - Evolution actually has several types of Auto Roulette wheels. One of the more popular kinds is the game played on a French wheel. This game features the La Partage rule, which adds a further incentive to stick to the outside betting areas.
Regular Offers - Who wants to stay at a site where nothing happens? Ensure whichever casino you join is loaded with offers and incentives for you to play. If you need to get an idea, check out the brands promotion page. Roulette bonuses, prize draws, new game announcements - the more new stuff, the better for you.
Live Casino Tournaments - Automatic Roulette is the perfect game for the fast-paced competition of tournaments. Thanks to those reduced betting rounds, you can rack up the bets and take home the gold. These tournaments regularly award cash prizes, so they are worth getting involved in!
More Information
Software:

Evolution Gaming

RTP:

97.30%

Game Type:

Roulette, Live Dealer

Single or Double Zero:

Single Zero

Roulette Racetrack:

Yes

Platform:

Android, iOS, PC

Bonus Features:

No dealers, Minimal Errors